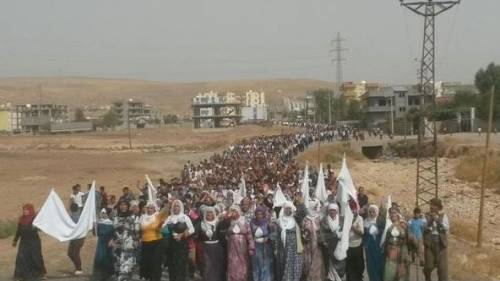 After Erdogan and AKP put war politics into action again in order to remain in power at all costs, Cizre has been under blockage by the war units of the Palace for 7 days. Death toll has reached to 20 according to the explanations of the committee which is making investigations in the region with limited opportunities. Any information regarding the current situation and the numbers of the injured, the amount of people with the food and water supply and necessary medication has not been received yet. Even the burials are not allowed in the town and a great violence is imposed by the war units of the Palace. Meanwhile, Prime Minister Davutoglu's statements like "There is no death in Cizre" (…) "The curfew will continue as long as required" are just apparently appalling providing the current situation in the area.
Cizre people, who voted for HDP at 94% at June 7 elections, are punished through these violence politics. Even the ministers and deputies of HDP are not arbitrarily permitted to enter the town by the Palace and its government which still continue to rule the country illegally after the electoral defeat. PM Davutoglu stated that "there is an uptrend on surveys regarding AKP" and said "We give all our efforts to strengthen the single-party government" during the violent blockade of Cizre. These statements present an explicit example of the current issues.
The state of siege in Kurdistan under the name of 'special security area', attacks to HDP offices in the West, lynch attempts to the Kurds and "the ones who thought to be Kurdish", every method to intimidate and pressurize the Press… This is how Davutoglu manifests "all their efforts" in order to "strengthen the single-party government"! All efforts of Erdogan and Davutoglu can be summarized as sustaining a political power full of corruption and lawlessness at all costs.
As Workers' Democracy Party, we call on the state for lifting of the blockage on Cizre immediately, ending the state of siege under the name of 'special security area', ceasing operations and attacks to end the dirty war; and on PKK for declaration of unilateral ceasefire. Poor Kurdish people and working class of Turkey should stand and struggle together to destroy war plans of the Palace to stop this dirty war.
Workers' Democracy Party, 10 September 2015